Licensed practical nurses (LPNs) and licensed vocational nurses (LVNs) are different titles for the same position. They are practical nurses who perform basic nursing care for sick, injured, and disabled patients under the direct supervision of registered nurses and/or physicians. LPN-LVNs use their knowledge of the patient's age, health status, and culture when providing basic care to patients as an integral member of the healthcare team.
The scope of what these professionals can do depends on the state in which they practice. In some states, they can insert peripheral IV lines, start and discontinue urinary catheters, and monitor patients on respirators. In other states, the duties of an LPN-LVN centers on basic bedside skills.
Minimum Requirements for a Practical Nursing Job
Education: Must be a graduate of a practical-vocational nursing program and hold a current nursing license from the state where nursing is practiced.
Certifications: Current Basic Life Support (BLS) and Cardiopulmonary Resuscitation (CPR) are required.
The Standard LPN-LVN Job Description
Common Skills
An LPN-LVN will need to perform a wide range of physical, social, and intellectual skills as a practicing nurse. Here are some of the skills one can expect to perform.
Draw up and administer injections
Prepare and give enemas
Monitor urinary catheters
Perform tracheotomy care
Change wound dressings
Assist the patient with self-care (feeding, oral care, proper hygiene, bathing, and grooming)
Prevent and treat bedsores
Assist the patient with comfort measures
Collect blood and urine samples for testing
Perform routine laboratory tests
Record food and fluid intake and output
Document vital signs
Monitor patients for adverse reactions to medications and treatments
Start IVs
Administer prescribed medications
Document patient care
Help to prepare patients for procedures
Perform blood glucose checks
Practice infection control
Maintain patient safety measures
General Duties and Responsibilities
The main duty of a practical nurse is to perform basic bedside skills like measuring and documenting patients' vital signs, helping patients' ambulate, and assisting patients with personal care. Here are some of the general duties and responsibilities of a LPN-LVN:
Is knowledgeable of the treatment procedures that apply to practical nursing
Communicates well with patients, families, and all members of the healthcare team
Accurately documents the care provided and the patient's response to the care
Assists in CPR and other hospital emergencies
Participates in opportunities for continuing education
Responds quickly to situations with the ability to prioritize effectively
Functions independently under the supervision of a registered nurse and physician
Carries out physician orders
Provides appropriate bedside care to help patients recover from their illness or injury
Follows hospital protocol when handling and disposing of bio-hazardous materials
Is able to help the team respond to disasters or other unforeseen events
Keeps all information about patients and their families confidential
Typical Daily Duties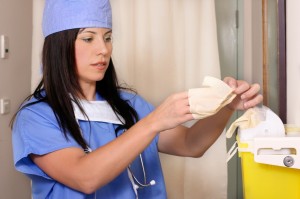 Although work duties will vary depending on the unit, specialty, and level of care provided the majority of the time, LPN-LVNs focus on assisting patients with grooming, dressing, feeding, oral care, and their elimination needs. Other duties they have include administering medications, inserting and maintaining urinary catheters, collecting specimens, and documenting the care provided.
A registered nurse or physician supervises the LPN-LVNs on the unit. The registered nurse determines the plan of care for the patient and then supervises and assists the practical-vocational nurse in reaching the patient's plan of care goals.
Areas of Employment
Traditionally most LPN-LVNs have been generalists employed in hospital settings. However, over the past several years many are being hired in other settings outside the hospital. Here are some of the different areas where they can work:
Hospice
Home healthcare
Long term care facilities
Private duty
Mother baby units
Physician offices
Psychiatric centers
Geriatrics
Clinics
Retirement homes
Hospice
Local and federal government offices
Health departments
With additional training and certification, these professionals can specialize in certain areas within the field. Some areas where they can specialize include:
Medical-surgical nursing
Pediatric nursing
Addiction care nursing
Long-term care nursing
Job Risks
Since the job of an LPN-LVN involves providing direct bedside care, they may experience neck and muscle pain due to prolonged periods of standing, the need to transfer patients from the bed to the chair, and the need to move equipment around the unit. Because they work closely with patients, they can be exposed to other work place hazards including radiation, chemicals, and infectious diseases.
Salary Information
The salary for LPN-LVNs varies depending on the state and the health care setting the practical nurse works. According to the Bureau of Labor Statistics, practical nurses made a median pay of $40,380 in 2010. This amount increased or decreased depending on the geographic location and health setting where the individual was employed.