Being a nurse practitioner, is generally a practice role, which involves caring for patients. In contrast with a Registered Nurse (RN) who generally follows the instructions of a physician or APRN (Advanced Practice Registered Nurse), a Nurse Practitioner (NP) functions autonomously under a physician or on their own. Duties of a nurse practitioner include, but are not limited to:
Maintaining patient records
Analyzing patient conditions
Determining a plan of care for the patient
Conferring with doctors to determine patient treatment plan
Prescribing medications and treatment
Following-up with patients
While an RN may carry-out a treatment plan or confer with a physician, a nurse practitioner is given the responsibility of developing such programs.
NP Job Descriptions by Specialty
Ultimately, the job description of a nurse practitioner is directly linked to a specific specialty. Specialties usually involve working with a specific population and, of course, require completing a training program that specializes in that focus area. The following are job descriptions related to specialties of the NP profession.

Acute Care Nurse Practitioner Job Description (ACNP)
ACNPs work with patients that are adolescents or older on critical care health issues. An Acute Care Nurse Practitioner (ACNP) may work only with cardiac patients, or patients who are in the process of an organ transplant.
Adult Nurse Practitioner Job Description (ANP)
Adult nurse practitioners treat primary care needs for adults. They may work in a variety of healthcare settings including hospitals and clinics.
Family Nurse Practitioner (FNP)
Provide general and preventative care to families such as physicals, check-ups and health screenings. Family nurse practitioners usually work in a clinic or hospital.
Geriatric Nurse Practitioner (GNP)
A gerontological nurse practitioner cares for elderly patients. Their job may include coming up with rehabilitation plans and educating family members among other duties.
Pediatric Nurse Practitioner (PNP)
A pediatric nurse practitioner works in settings with children. They may provide instruction or information to parents or guardians. Some PNPs choose to specialize in care of a specific age group such as neonates.
Psychiatric/Mental Health Nurse Practitioner (PMHNP)
Psychiatric/mental health nurse practitioners may prescribe medication to as well as counsel patients. PMHNPs work in collaboration with physicians to understand the results of psychological testing and treat patients. PMHNPs are not permitted to conduct psychological testing.
Women's Health Nurse Practitioner (WHNP)
WHNPs work specifically with women's health issues from birth through post menopausal health issues.
Descriptions by Work Setting

Traditional Healthcare Facilities
Nurse practitioners can work in a variety of healthcare settings, though most choose to work in practice. Hospital, outpatient treatment facilities, clinics, urgent care, facilities and even home health opportunities are options for nurse practitioners seeking to work in a practical healthcare setting. At times, nurse practitioners in a clinical care setting may do an ambulance ride along to provide care to the patient or assess their health at the scene.
Research Facilities
A growing number of nurse practitioners are leaving the healthcare setting and using their nursing education elsewhere. Universities and institutes often hire NPs to lecture in degree programs, provide clinical training in a laboratory/simulation environment, and supervise clinical practicum experiences.
Other places where nurse practitioners may find their education and background useful include nonprofits focused on healthcare, credentialing and policy programs for nurses.
Universities and Colleges
A select group of nurses can combine the clinical and theoretical aspects of their job in a faculty position. In addition to teaching, some universities allow the same professors to supervise laboratory training for the specialized nurse. Such a role is ideal for nurse who wants to maintain a hand in the developments of nursing theory, but also work in a clinical setting. Working at clinic or hospital on a university campus may also offer more opportunities to learn about developments in research and academia than a traditional healthcare setting.
Administrative
To some degree, nurse practitioners will have an administrative component to their job. All nurses, regardless of career level have a requirement for "charting," which involves logging each patient's care. Because nurse practitioners are APRNs (Advanced Practice Registered Nurses), a step above RNs, they may also be required to complete paperwork as it relates to overall office care. In addition, managing policies within the healthcare setting may also become a part of an NP's duties.
The Varying Roles of Nurse Practitioners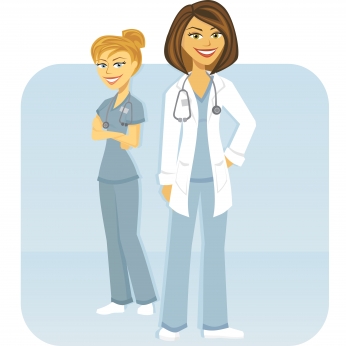 The NP is often a first step in a doctor's visit before seeing the primary physician. As doctors do, NPs screen patients and advise on preventative care, diagnose and treat illnesses. Nurse Practitioners are also allowed to prescribe medication and conduct physicals.
In most cases, a patient is only referred to the physician in uncharacteristic circumstances. Depending on the nurse practitioner's training, patients undergoing an unusual condition will be advised to see the primary care doctor. In an issue in which a NP is unsure or there is a serious health issue at stake, the NP may either consult the doctor or refer the patient to visit the doctor instead.
Ultimately, the independence and duties of the NP vary by state. Certain states allow nurse practitioners to function as independent health care professionals, which don't necessarily require the supervision of a physician.  Thus the nurse practitioner job description may vary according to which state they work in. States that allow nurse practitioners to work independently include Arizona, Alaska, Idaho, Iowa, Montana, New Hampshire, New Mexico, Oregon and Wyoming.
A Note on NP Salary
It goes without saying that more experienced nurse practitioners will earn a higher salary. A nurse practitioner's salary can range from $60,000 for an NP with little experience to over $100,000 for the most experienced nurses (www.bls.gov).  Critical care nurse practitioner specialties will also earn a higher salary.
On the whole, nurse practitioners are autonomous healthcare professionals that work under limited supervision under healthcare professionals or own their own. Their job duties are largely determined by their specific specialty, whether pediatrics, gerontology, acute care, etc. In addition to providing general patient care, the nurse practitioner job description may include supervising other nurses or completing administrative duties. Because of their demanding role, nurse practitioners may earn over six digits annually in their career. The nurse practitioner role is ideal for nurses seeking a challenging, fulfilling and rewarding opportunity.