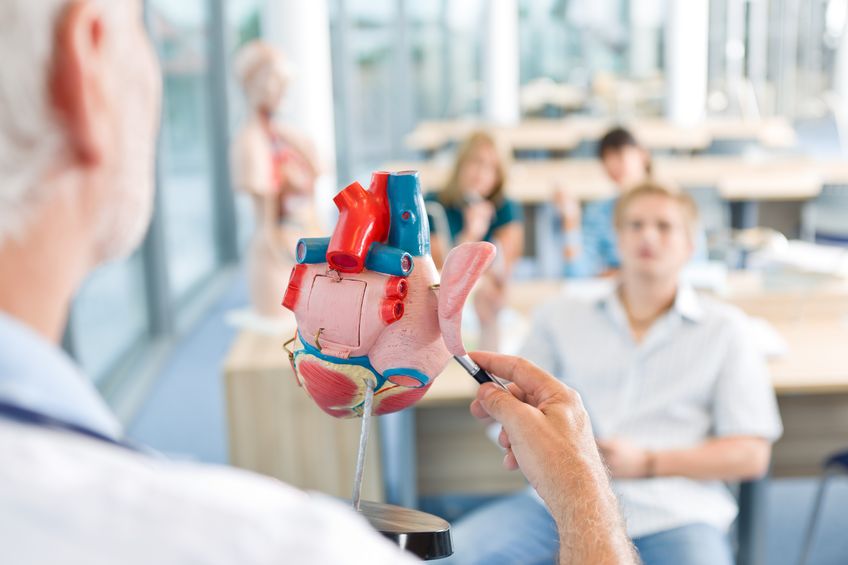 When it comes time to select the best nursing school in which one plans to enroll, there are a whole host a elements that need to be carefully considered in order to make an educated, satisfying choice. There is a lot riding on your decision on which program you attend could very well impact your entire career or at the very least, the learning process. As you are looking through the tons of material from the nursing schools, you might find yourself a little lost. Which one should you pick? How do I know this is the right one? In this article, we are going to look at some of the best ways to pick which of the nursing programs might be right for you.
How to Select the Best Nursing School
The process for finding the best nursing school can feel overwhelming at times, but it doesn't have to be. The great method of how to select the best nursing school is to break research down into the search sections, focusing on one area at a time as one narrows their options to a preferable group of schools. The good news is that with so many options, both online and in-class, one is sure to find a nursing school that suits their needs, with a bit of careful research. Ahead we at Nursing Classes Online will provide you some key points that one should consider how to choose the best nursing school.
Degree Programs Offered
This may sound like an obvious suggestion, but it is also a good place to start. Not every nursing school offers every type of nursing program, so a quick way to narrow down the list is to look only at the schools that offer the program one wishes to pursue. For those who aren't sure which degree they would like to pursue, the first step is to do some research in that area, prior to looking at specific schools.
Accreditation
Faculty
One way in which one can glean some information about a particular school is to look at their faculty. Most schools will have this information readily available on their website. Take a look at the qualifications and experience of the faculty members, especially those who teach in the program one wishes to pursue. The more extensive their experience and qualifications, the more likely they are to be able to teach their subject matter well.
Curriculum
Though most nursing schools will have similar course offerings in a given program, it still pays to take a look. Perhaps there is a certain specialized class one wishes to pursue, or an area of nursing that proves exceptionally interesting. This information will also be available on the website of most schools.
Online or In-class
This is a key decision when figuring out how to choose the best nursing school, and both paths have their advantages. Online education is ideal for those with busy schedules, whether due to full-time work, kids at home or other obligations. In-class learning provides hands-on experience, and face-to-face interaction with one's professors. In some cases, a combination of both is available, which works as a great compromise for many students.
Clinical Experience and Hospital Partnerships
Many schools partner with area hospitals, in order to provide students an opportunity for hands-on, real time training in a busy healthcare environment. For many types of nursing students, especially those who wish to work in hospital settings, this can prove to be invaluable experience.
Financial Aid, Scholarships and Student Loans
Nursing school can be a considerable investment, but there are many ways through which to offset the financial burden. By seeking out schools that offer scholarships, financial aid and student loan programs, one can find a way to finance their education even on a tight budget.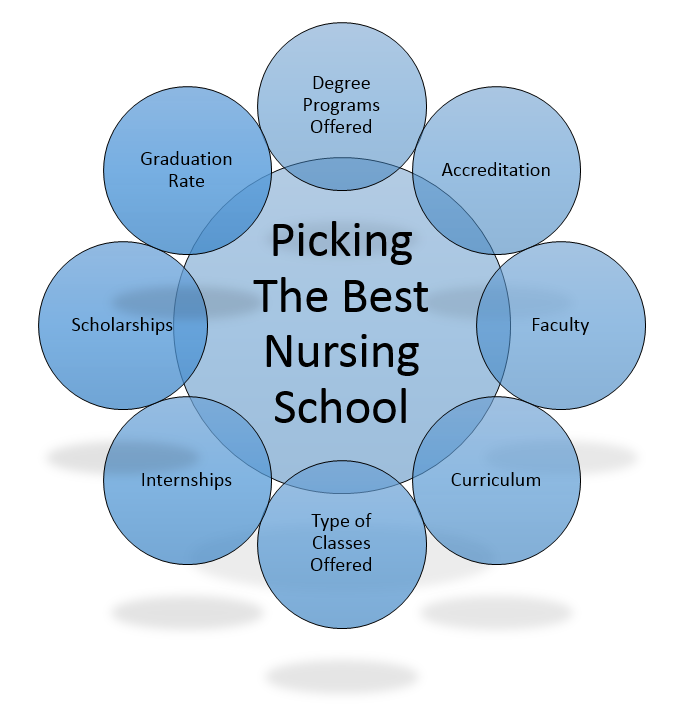 Graduation Rate
Graduation rate is not an end-all, as a high graduation rate can sometimes, but not always, be an indicator of training that is a little too easy, just as an overly low rate can indicate extreme difficulty. The important thing is to seek a school with a rate that one is comfortable with.
Career Placement
Many nursing schools will offer career placement assistance for after one graduates. This can include practice interviews, licensing exam prep, resume assistance and leads on local jobs. Career placement services can be a great tool for finding a job after graduation.
Consult a Practicing Nurse
Whether one has a nurse in their family or group of friends, or has to reach out to a stranger, consulting someone who has already graduated from nursing school can provide valuable insight. Even with all of the modern resources available, there is still nothing like word of mouth.
As one progresses through each element of their search, they will find that their list begins to narrow down automatically. For each individual, some elements of how to choose the best nursing school will be more personally important than others, and should be weighed as such. In the end, a comprehensive search will likely lead to a satisfying choice that will be the first step toward a rewarding nursing career.